St. Mark's Square Museums
- Biblioteca Marciana
The ticket allows you to visit also the Doge's Palace, the Correr Museum and the Archaeological Museum.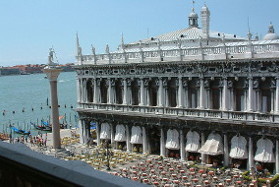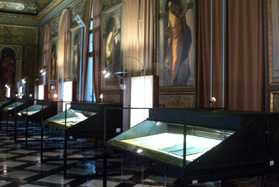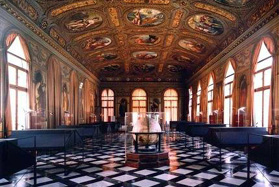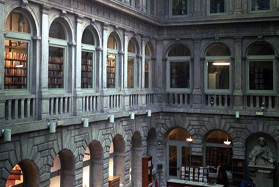 Biblioteca Marciana - St. Mark's Square Museums. The library, by Jacopo Sansovino, was built and decorated to welcome the Greek and Latin codices donated to the Republic of Venice by Cardinal Bessarion in 1468. It contains precious manuscripts, like the Breviario Grimani from the fifth century and the Worldmap of Fra Mauro, and ancient editions, including those of Aldus Manutius. On the first floor there is the Vestibule, the ceiling of which stands the painting by Titian "La Sapienza", and the hall of the library. On the vaulted ceiling of the hall you can see twenty one portraits, the work of seven artists chosen by Titian and Sansovino themselves: the most famous are the three of Paolo Veronese; on the walls are portraits of philosophers: some of them are works by Tintoretto and Veronese.
Get your tickets online: ONE RESERVATION FOR 4 MUSEUMS!
Avoid the long queue at the entrance!
An exclusive booking service to get your tickets.
booking
A skilled tourist guide at your disposal!
Discover the museum with your private guide!
Reserved entrance, no need to queue and you can decide the starting time of your visit!
booking
Customers who booked this museum also booked:
Opening times
Open Monday to Friday from 8.00 am to 7.00 pm and Saturday from 8.00 am to 1.30 pm.
Closed Sunday, January 1st and 6th, April 25th, May 1st, June 2nd, August 15th, November 1st and 21st, December 8th, 25th and 26th.
Address and Map
Piazza San Marco, 7 - Venice.
Exhibitions
Scheduled exhibitions inside the museums: no exhibition scheduled
Reach the museums in total comfort with our transfer service!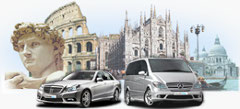 TRANSFER SERVICE
Book Now