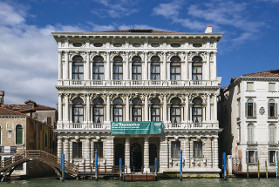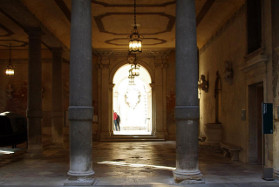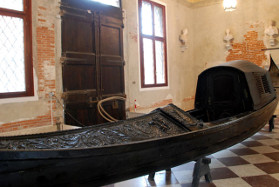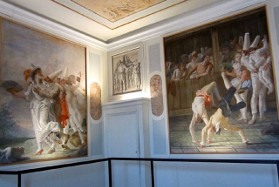 Ca' Rezzonico - Museo del '700 Veneziano. This wonderful palace, that now houses the Museum of Venetian 18th century, was projected by the most important Baroque architect in Venice, Baldassarre Longhena, for the noble family of the Bons and the works started in 1649. From the staircase close to the cafeteria we can reach the Browning Mezzanine, that hosts the Mestrovich Collection. This collection includes paintings by famous artists such as Bonifacio de' Pitati and Jacopo Tintoretto.
The visit to the collection starts from the large staircase by Giorgio Massari, situated on the opposite side of the palace in respect to the Grand Canal. On the first floor there are 11 rooms containing sculptures, paintings, collections of 18th century furnishings and frescoed ceilings. Here you can also see a selection of garments, clothing and other accessories that are part of the permanent collection. On the second floor you can find the portego (a long hall characteristic of the Venetian palaces) where there are 2 early works by Canaletto. Above all that the rooms housing the works by Giandomenico Tiepolo and Pietro Longhi are not to be missed. The third floor houses the rooms of the an old pharmacy (Farmacia Ai do San Marchi) and the important pantings collection bequeathed by Egidio Martini.
The layout of the palace takes visitors through the various rooms of the first floor with a large selection of clothing, garments and other accessories which are part of the permanent collection.
A skilled tourist guide at your disposal!
Discover the museum with your private guide!
Reserved entrance, no need to queue and you can decide the starting time of your visit!
For information and reservation click here.
Customers who booked this museum also booked:
Opening times
Open April 1st to October 31st from 10.00 am to 6.00 pm
Open November 1st to March 31st from 10.00 am to 5.00 pm
Closed Tuesday, May 1st, Christmas Day and New Year's Day
Address and Map
Dorsoduro, 3136 - Venice.
Exhibitions
Scheduled exhibitions inside the museums: no exhibition scheduled
Reach the museums in total comfort with our transfer service!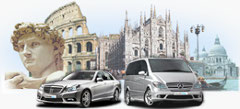 TRANSFER SERVICE
Book Now