Venice in a Day
electronic voucher accepted
The Itinerary:
Classic gondola tour, Venice past & present walk, the magnificent Doge's Palace and the secrets of its prison cells, Grand Canal boat tour.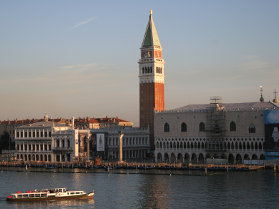 Venice in a Day. Take our charming gondola tour and glide through centuries of history, allowing yourself to be captured by the elegance and glamour of the Venetian palaces. The perfect way to appreciate the beauty, charm and colour of this unique city built on water, you will be enthralled by what surrounds you. Your guide will lead you through a unique open air museum to discover the monuments of Saint Mark's Square: you will admire the Doge's Palace, the Bridge of Sights and its prisons (interior visit), the Bell Tower (only exterior), the Sansovino Library (only exterior) and the Clock Tower (only exterior).
The Doge Palace is a masterpiece of the Gothic Architecture that housed for centuries the seat of the political power in Venice. Here the Duke and his Council took decisions and built the future of a thousand-year Republic. You will cross the rooms where masterpieces by Tiziano, Tintoretto, Bellini and Veronese are displayed.
The visit finishes with the tour of the most beautiful "high street" in the world, the Grand Canal. Here you can admire the wonderful palaces which have been erected over hundreds of years making the Grand Canal what it's today. With our guide you will imagine how the Grand Canal was when it was rich of gardens, stone-masons and warehouses.
Rucksacks and large bags and are not admitted inside the Basilica, knees and shoulders must be covered to get into churches.
The Tour is not available from November to February.
ATTENTION PLEASE: for security reasons is strictly forbidden to enter the museums with backpacks, large handbags and luggage. We suggest you not to bring them with you since queues to leave them at the wardrobe are very long.
Venice in a Day Group Guided Tour
Starting Time: 9.40 am
Frequency: from Monday to Saturday - only from April to October
Duration: about 4 hours
Language: English
Meeting Point: You will find the meeting point on your voucher.
Price: 135.00 Euro per person.
Free under 5 years of age.
booking
The price includes: Guide service, transfer by boat, gondola tour, entrance tickets.
CANCELLATION POLICY
In case of cancellation, please contact us.
If a cancellation is made at least 4 days before the day of the tour, the cancellation penalty is equal to 50% of the gross total.
For cancellations that are made from 3 days prior the day of the tour, the penalty charge will be equal to 100% of the gross total (the paid price is NON-REFUNDABLE).
Customers who booked this tour also booked: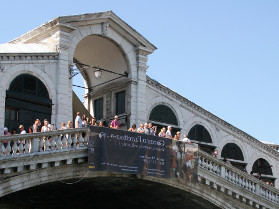 Have a walk outdoors through the most characteristic and important places...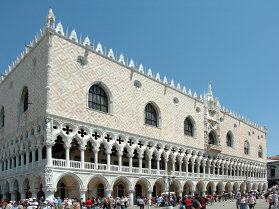 A masterpiece of Gothic Architecture, the Doge's Palace is an accumulation...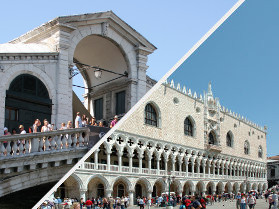 Have a walk through the most characteristic and important places...