The Doge's Palace Tour
electronic voucher accepted
The Itinerary:
The tour takes place inside one of the most important symbol of the politic life in Venice: the Doge's Palace.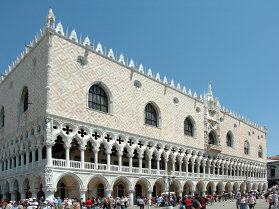 The Doge's Palace Tour. The Doge's Palace is a masterpiece of Gothic Architecture and its structure includes the original foundations, the fourteenth/fifteenth-century structure, remarkable additions from the Renaissance and Mannerist details. The structure is composed in three different blocks that absorb previous constructions.
The oldest wing is the one looking towards the St. Mark's Basin, contains the Hall of the Great Council and has been rebuilt starting from 1340.
The Court Rooms, included in the wing which faces the Saint Mark's Square, hosts the Sala dello Scrutinio and it was erected in its actual form from 1424 onwards. The wing facing the canal side and hosting the Doge's apartments and several gouvernment offices, was erected between 1483 and 1565, during the Renaissance. The entrance to the Doge Palace reserved to public is located in Via Porta del Frumento (Forage Gateway), so called because the "Ufficio delle Biade" (Fodder Office) was situated nearby; it opens under the portico of the fourteenth-century facade overlooking the "Bacino San Marco". The public services and the Museo dell'Opera (Museum of the work done on the building) are located on the ground floor; the ancient palace kitchens now house the Cafeteria and a space for the temporary exhibitions.
ATTENTION PLEASE: for security reasons is strictly forbidden to enter the museums with backpacks, large handbags and luggage. We suggest you not to bring them with you since queues to leave them at the wardrobe are very long.
The Doge's Palace Group Guided Tour
Starting Time: 11.45 am - During the high season also at 3:45 pm
Frequency: every day
Duration: about 1:15
Language: English (multilingual tour)
Meeting Point: Calle Larga de l'ascension 1256
Price: 48.00 Euro per person.Children between 6 and 14 years old : 34.50 Euro. Children under 6: free.
booking
The price includes: guide service, headphones, entry ticket for the Doge's Palace (skip the line).
CANCELLATION POLICY
In case of cancellation, please contact us.
If a cancellation is made at least 4 days before the day of the tour, the cancellation penalty is equal to 50% of the gross total.
For cancellations that are made from 3 days prior the day of the tour, the penalty charge will be equal to 100% of the gross total (the paid price is NON-REFUNDABLE).
Customers who booked this tour also booked: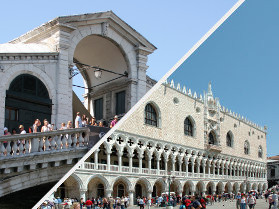 Have a walk through the most characteristic and important places...
Click here for more information.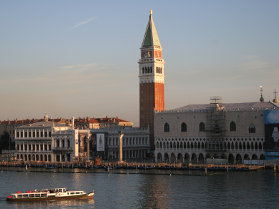 Take our enchanting gondola tour and glide through centuries of history...
Click here for more information.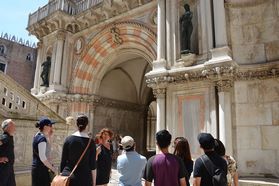 The tour passes through the rooms of the Doge's Palace that were once...
Click here for more information.