You are booking: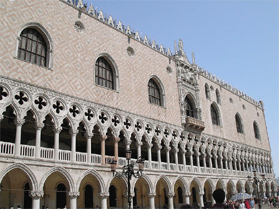 Venice Centre and Doge's Palace Private Tour
Duration: about 3 hours
Availability: every day
Language: Any language of your choice
Starting time: from 9:00 a.m. to 3:00 p.m.
SPECIAL CANCELLATION POLICY FOR PRIVATE GUIDED TOURS
In case of cancellation, please contact us.
The cancellation must always be communicated in writing (e-mail or fax). If a cancellation is made at least 4 days before the day of the tour, the cancellation penalty is equal to 50% of the gross total.
For cancellations that are made from 3 days prior the day of the tour, the cancellation penalty is 100% of the gross total (the paid price is NON-REFUNDABLE).

Confirmation Emails
Once the booking request is submitted, you will receive two e-mails:
The first is sent immediately and is only a copy of your order.
The second one will be sent with the payment procedure.

Buy In
Complete Security
Buying on our web site is safe and secure.
All information is encrypted and transmitted using Secure Sockets Layer (SSL) protocol.

Privacy
Policy
TuscanyAll respect your privacy.
TuscanyAll doesn't sell or grant your personal information.
Please read our Privacy Policy.

Assistance
Help with purchase.
For technical support use our Customer Services Contact Form.